The airline is suffering from the same fate as the city for which it was named – exuberant over-expansion flying in the face of economic reality.
On the outskirts of Berlin, hidden among closed motorways and unused train tracks, lies Germany's national embarrassment.
Berlin-Brandenburg Airport, originally scheduled to open as the German capital's first real properly sized airport in 2010, has been beset by delays and still sits unused today. As I discovered when I visited the site for a radio piece on Deutsche Welle two years ago, construction has actually finished and the airport is ready to go. But a fatal engineering flaw involving exhaust fans means it cannot open, and there is no solution in sight.
Outrageously over time and over budget, the project has become a national scandal in Germany and, for many Germans, a symbol of the deep dysfunction of their capital
city – a place many Germans don't even see as really being part of Germany.
And so when yesterday's news broke that Air Berlin, the only German airline based in the capital, had declared bankruptcy, it seemed par for the course. A broken airport, a broken airline. Once again, Berlin blights Germany's reputation as a powerhouse of efficiency.
A Cold War Beginning
However the airline's name is a bit of a misnomer. It is in fact also based in Dusseldorf in West Germany, using both that airport and Berlin's bursting-at-the-seams Tegel Airport as bases for their flights.
The company was originally an American airline. It was founded, as 'Air Berlin USA', in Oregon in 1978 as a small side project of Lelco, an American agricultural company. It's mission was to operate chartered flights on behalf of German tour operators from Tegel, inside West Berlin, direct to Mediterranean holiday resorts. Until then, people in West Berlin who wanted to go on holiday outside the country always had to fly to West Germany first and transfer – a situation which we may be returning to if Air Berlin is allowed to collapse.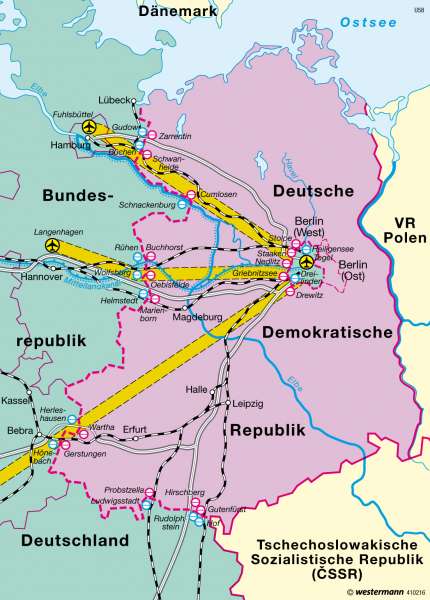 Under the allies' agreement, West German airlines were forbidden from using the special air corridors into and out of West Berlin. These could only be used by British, French or American planes. Air Berlin provided a much-needed service, so desperate were people in West Berlin for direct lines out of the city. It soon expanded and started offering direct flights to Florida.
However when the wall fell in 1989, Air Berlin was faced with a challenge – they were about to lose their special privileges to access West berlin, and would need to find West German majority shareholders. In 1991 a German businessman bought the airline from the Americans, and set up headquarters in Dusseldorf.
Rough air
Flash forward to 2017, and Air Berlin's role providing escapes from Berlin hasn't changed all that much. Lufthansa, the national carrier, never moved into the city as a hub and flights with that airline still go through Frankfurt. The Irish airline Ryanair and British airline Easyjet now have flights out of Schonefeld, the only other airport besides Tegel. But Air Berlin is the only German airline based in Berlin. And today it is Germany's second-biggest airline.
Things have been a disaster at the airline for some time. In 2011 the Abu Dhabi airline Etihad purchased a controlling stake in the company at a bargain price hoping it could turn it around after years of losses. It couldn't. Last April it announced a record loss of 446 million euros. It had taken on debt of over 800 million euros in wild expansion plans, as tourism to Berlin grew to mind-boggling levels. Thinking it could base expansion on tourism alone, rather than business travel to the capital which was still limited, it invested heavily. But the investments didn't pay off.
As it became clear in the last three years that things were not going well, the airline went through rapid strategy changes on routes and advertising, cycling through a series of several CEOs with radically different visions. The delay to the opening of Berlin Brandenburg Airport, which was supposed to be its new hib, also hurt the airline.
After sinking tons of money into the airline trying to save it, this week Etihad announced it was done. Abu Dhabi had previously pledged its support through October 2018.
Berlin's aviation lifeline
Had Air Berlin folded yesterday, it would have left thousands of travelers stranded – both Berliners on trips and non-Berliners on trips to Berlin. Following the announcement, the German government immediately announced it will guarantee a €150 million loan to the airline in order to keep its scheduled services running.
That loan will run to November. The big question is whether the government will continue to save the airline after that. There is little doubt that Germany's general election, coming up in just a month's time, meant that it was not an option for the government to let Air Berlin fold yesterday. Not only would it have left thousands of passengers stranded over the coming weeks, it would have created a clear long-term problem of Berlin becoming once again difficult to access by air. Nobody wants to create angry voters.
But once the election is over, it's anybody's guess whether the government will keep it alive.
The loss of Air Berlin would make flying in and our of the German capital even more difficult than it already is. Berlin has far fewer direct flights to destinations outside Germany than other capitals such as Paris, London or Brussels. Air Berlin is providing a big chunk of those flights. The city is already crippled by the Berlin-Brandenburg failure, which has left the two tiny existing airports struggling under the weight of major overcapacity, existing on a series of temporary buildings which were supposed to be closed years ago.
There is one obvious solution which has been floated.
Lufthansa could either buy Air Berlin, or buy the routes that it operates out of Berlin. But there is concern that Lufthansa would only take over some of the routes, which would still leave Berliners with a hugely reduced amount of flight options.
Berlin resentment
A lot of the damage of a closure would be symbolic. The airline carries the name of Germany's capital, and its collapse would leave the city with an air connectivity resembling a provincial city in Romania. As one of the airlines operating during the Cold War in the old military routes, it also has comes with the gravitas of history.
But at the same time, the public mood toward Berlin in the rest of Germany is not so sympathetic these days. I hear negative sentiments from West Germans constantly. Berliners are lazy, they're scroungers, it's not "real" Germany. To many Germans, their capital city feels like a foreign place. And it's a foreign place that they are subsidizing. It is the Greece within.
Berlin is indisputably poor. Its mayor once famously gave it the motto "poor but sexy". It is an unusual situation for a capital city. Germany is the only country in Europe that would be economically better off without its capital city, according to the Cologne Institute for Economic Research. Unemployment is among the highest in the country, as is the percentage of people living on government subsidies. Berlin receives more subsidies than any other German state.
And so perversely, the word 'Berlin' in the airline's title might actually make Germans less disposed to giving it a bailout. It might seem like Germans would feel ashamed to leave the national capital with crippled air links, but this is a country that is not terribly sentimental about its capital. Indeed, the German Parliament only voted by 338 to 320 votes to move the capital from Bonn to Berlin in 1991.
25 years later, many are still uncomfortable with the idea of poor Berlin being the capital of economically mighty Germany. This has been reflected by the fact that German companies, in finance, industry or media, have still not moved to the city. They are still based in Frankfurt, Munich, Hamburg and Cologne.
Are Germans tired of bailing out Berlin? We will find out in November when, free from election headaches, it comes time to make the decision about whether to save this 'poor but sexy' airline.