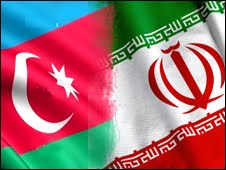 Azerbaijan's close historical and ethnic relationship with Iran is causing discomfort in the lead-up to the Eurovision Song Contest final next weekend, hosted in Baku. Last week angry Iranian demonstrators, probably government-organised, surrounded the Azerbaijani consulate in Tabriz condemning the country for hosting a 'gay contest'.
This week a Eurovision news website was attacked by Azeri hackers in protest of Eurovision, which they said was a "gay pride event". It is not yet known whether these were Azeris in Azerbaijan or Iran - but the later is more likely.
The contest organisers have appeared unsure of how to respond to the protests. Eurovision is, after all, not actually a "gay event" as the Iranians have claimed. But it is true that it has a large gay following, and there has been concern about the safety of the many gay fans who will be converging on Baku this week for the show.
Azerbaijan, as is evident from its flag, is a Muslim country. But given that the former Soviet Socialist Republic is largely secular, it has been a matter of speculation whether this would cause problems for gay fans (homosexuality was decriminalised in the country in 2000, in order to join the Council of Europe). Turkey, another Muslim but nominally secular country, hosted the contest in 2004 without incident.
But interestingly, much of the religious-based resistance to the hosting of the conference has come from neighbouring Iran, where the majority (3/4) of the Azerbaijani people live. Iran's population is 30% Azerbaijani.
The opposition in Iran appears to have originated from a posting in January on the gay nightlife website Nighttours which suggested that a 'pride event' for gay Eurovision fans could take place in Baku this week in the lead-up to the contest.
The Iranian state media somehow came across it, and soon there were media reports attacking Iran's Northern neighbour for hosting a 'European gay pride event'. According to the website GayStarNews, further Iranian media reports alleged that an Azerbaijani diplomat, Ebrahim Ghafarov, insulted the Iranian nation by 'defending' the plans for a 'gay parade' in Baku. The reports also alleged that this diplomat was himself gay, and called for his deportation. Homosexuality is a criminal act in Iran punishable by death. Just this week four Iranian men were publicly hanged for homosexual acts.
In reality no such 'gay pride' event had ever been planned, and it was quickly removed from the Nighttours website. But Iran's religious authorities have chosen to ignore that detail. An Iranian government official has threatened to close down the Azerbaijan consulate in Iran if the Eurovision Song Contest goes ahead, with or without a gay pride event. Azerbaijan has been attacked in official prayer services in Iran for giving in to "anti-Islamic forces" and, naturally, a "Zionist conspiracy." Earlier this month, according to Iranian news agency JoopeA, Ayatollah Mohsen Mojtahed Shabestari, a personal representative of Iran's Supreme Leader, said during prayers,
"This dance party and the parade attract all sorts of anti-Islamic groups and perverts. While many countries do not allow perverts and fags to hold a rally, the rulers of dominantly Shiite Azerbaijan have allowed for this unethical event to take place. I want to ask them "what has happened to your Islamic honour and why have you turned into play toys in the hands of Zionists?"
According to GayStarNews, last week after Shabestari again attacked Azerbaijan in Friday prayers, a mob of angry Azeri-Iranian demonstrators surrounded the Azerbaijan embassy and shouted slogans such as "Azerbaijan is a Muslim country and it is not a place for fags' and 'Aliev go to hell', referring to the country's president. This week the Holland-based web site ESCtoday, as well as the Azerbaijani Eurovision fan sites
www.eurovision.az and www.eurovisionaz.com,
were hacked. The perpetrators erased the entire history of the sites and changed the main pages to this rather camp-looking image below of a knight and an Azerbaijan flag.
The European Broadcasting Union, which has organised the contest since 1956, released a statement this week responding to the attacks. "We are here to organize a song contest, not a gay parade," they said. "As always, there's solid security arrangements around the contest." So far there have been no protests or anti-gay violence or messages in Azerbaijan itself. Given that the border between the two countries is effectively closed due to their extremely strained relations, gay fans in Azerbaijan are probably safe from angry Iranians.
So why is Iran making such a big deal over a non-existent gay pride event? The strained relationship mentioned above holds the key to the answer. Theocratic Iran has long has bad relations with Azerbaijan's secular dictator
Ilham Aliev. They have accused Aliev of plotting with Israel against them. They aren't entirely wrong in this perception. Reports have indicated that if Israel chooses to launch attacks against Iran's nuclear installations, those aerial attacks will be launched from bases in Azerbaijan. Azerbaijan is one of the few Muslim countries in the world to have good relations with Israel.
Recent statements by Aliev have helped inflame the tensions. Last year the he said in a speech that he wanted to be "a leader for all Azeris around the world," clearly referring to the majority of the population that lives across the border in Iran. For their part, Iranians consider Azerbaijan to be a stolen part of Iran. The small territory was lost by Iran to Russia in the early 19th century during the Russo-Persian War.
The Iranians are likely trying to use the Eurovision Song Contest "controversy" to A) kill off any pro-Azerbaijan sympathies among its Azeri population and B) gain leverage in ongoing negotiations with Aliev over the two countries' maritime boundaries in the Caspian Sea. They are currently fighting over oil and gas reserves.
It is hardly unusual for the Eurovision Song Contest to become entangled in political tensions – that's what makes the contest so fascinating really. But hopefully the anti-gay rhetoric coming from Iran will not find sympathy amongst the Azeris in Azerbaijan over the coming week. The last thing the contest's hosts need is images of anti-gay demonstrators outside the arena. But given the rather loose relationship to religion most Azerbaijani Azeris have, this seems unlikely.