So far, Zurich has not been disappointing. I'm sitting here out on my dad's balcony overlooking Lake Zurich, watching the boats go by. Kind of like Roosevelt Island, except...so not. What a gorgeous city, if a little small.
I haven't slept since Monday night, so I should probably get to bed soon but I wanted to post some pictures of my trip so far. Up above is a picture I took today from the steeple of the Grossmunster cathedral, which affords a great aerial view of the city. I spent the day just walking around and exploring the city, trying to get my bearings. It actually reminds me a lot of Prague, especially the narrow, winding pedestrian streets. Very picturesque.
A few things I've observed so far:
1) This city is damn expensive! My dad warned me, but I didn't realize just how much so. Practically the first thing I did here was go to McDonalds (I could say it was to get a cost of licing comparison but really it's just because I'm kind of lame). It was 10 Swiss Francs for a small big mac value meal! That's about $8. We went out to dinner tonight and the bill for the three of us was 200 Francs.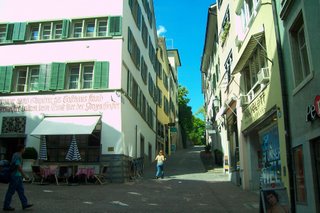 2) I had heard that Zurich was pretty mixed between German and French, but everything is in German, and a good 98% of people here are speaking Swiss German with each other. I know this is the Swiss German-speaking area of Switzerland, but I thought it was going to be like Quebec, where the signs are in English and French. I figured they might be in Germand and French here. No such luck. Looks like my knowledge of French is proving useless once again...
3)The trains here are really quiet! Like, eerily so...both the trains themselves and the people on them.
My dad's apartment is quite awesome. It's right on the lake and has windows going all around it, it's like being outside all the time. Here's a picture of the inside. From the side looking out onto the lake you can see the snow-capped Swiss Alps in the background, it's breathtaking. There's a little beach across the street and the water is incredibly clean and very warm. The balcony out here is great.
Of course everything isn't rainbows and sunshine for them. They still haven't been able to get their satellite hooked up so there's only German TV, and with my brother hogging his laptop all the time there isn't much for my dad to do. He seems frustrated with how difficult just everyday things are for him. I had forgotten how different even the groceries in Europe are. I opened the fridge and had an instant flashback to Prague. The apartment is also in the unenviable position of being between a pretty busy street and train tracks. The trains are extreemly quiet, and the bedrooms are in the back, so it's not such a big deal. Still, it's something my dad didn't realize when he took the place. Seems a small price to pay for the view though (I find myself saying that about my own residence fairly frequently).
But so far it's been nice. We had dinner down the street at this restaurant on the lake tonight. We sat at a table right on this dock (the one in the picture) and had a bizarre experience when someone pulled up their boat next to our table and asked how the food was. When we told them it was good, they proceeded to dock and climb aboard, getting a table for two.
Tomorrow it may rain, so I'm going to do some serious museum exploration. If it doesn't rain, I'll probably do some swimming first.